B.B.Mgt (Special) Degree in Marketing
Bachelor of Business Management (Special) Degree in Marketing contains four levels (four years), and each level is modeled on a specific job role progressively leading to a 'strategist' (associate to analyst to specialist to strategist). And in developing the content a 3D approach had been undertaken, where knowledge, skills, and attitudes were combined in creating a strategist who is competent, capable, and confident.
Further, the degree program is structured into eight learning pillars (Business Environment, Management, Accounting & Finance, Quantitative Aspects, Digital Marketing & IT, Branding & Communication, Consumer Behaviour & Research, Applied Marketing) cutting across each of the four levels of the degree programme, in building a consistent and gradual elevation of teaching, learning, and assessment. The learning outcomes propagated via the eight learning pillars develop


A fundamental understanding of marketing management and to be extensively competent in 'Branding & Communication', 'Consumer Behavior & Research', and 'Applied Marketing'





Accounting and Finance' related skills in strengthening financial intelligence





Quantitative' shrewdness in developing strategies





The 'Tech-savviness' in business and decision making





The ability to associate 'Local and Global Business Environment' in becoming a strategist





A sound knowledge of 'Modern Management Practices' in developing and executing strategies
Undergraduate Programes
The Department of Markeng Management (DMM) is one of the premier departments affiliated to the University of Kelaniya, Sri Lanka, and is the only SAP University Alliance partner in Sri Lanka, and also the only ISO 9001:2008 quality cerfied business management department in the country.


DMM strives to create a 'strategist', "who is competent, capable, and confident in driving people and businesses to greater heights", via the below six standards affixed together:




Teaching Standards – internaonally accredited teaching content



Focus Skills – focused on so skills leading to employability



Professional Development – via blended teaching, learning, and assessment



Outward Insights – industry triggered teaching and learning



Hands on Markeng – making students employable through simulaon programmes, event organizing, praccal training, execuve series, and etc.


Blended Faculty – a faculty that comprises of various disciplines, boosted by doctoral holders & professionals with industry and internaonal exposure.
A Unique Degree
| | |
| --- | --- |
| Traditional Degrees | B.B.Mgt. (Special) Degree in Marketing |
| Lack of direction and vague end outcomes | Level specific direction set via graduate profiles or level descriptors, setting the exact expectations on knowledge, skills and attitude |
| Course units appear and disappear randomly throughout the degree programme | Unambiguous development of learning through eight domains of learning pillars |
| Lack of structural flow in developing knowledge/ skills/ attitude | Learning elevated gradually from factual to conceptual to procedural to metacognitive |
| Lack of regular elevation of ability or action in making graduates capable of performing the desired job roles | Learning outcomes based on action biasness ranging from remember to comprehension to application to analysis to evaluation to synthesis |
| More teacher centered learning methods | Innovative teaching and learning via buzz groups, crossovers, industry visits, workshops, simulation, online forums, white papers etc... |
| On-supply learning with hours of class room work | On-demand learning via podcats, vodcasts, and LMS activities |
| Ambiguous assessment methods via misaligned questions | Teaching, learning, and assessment based on action verbs with clear definitions |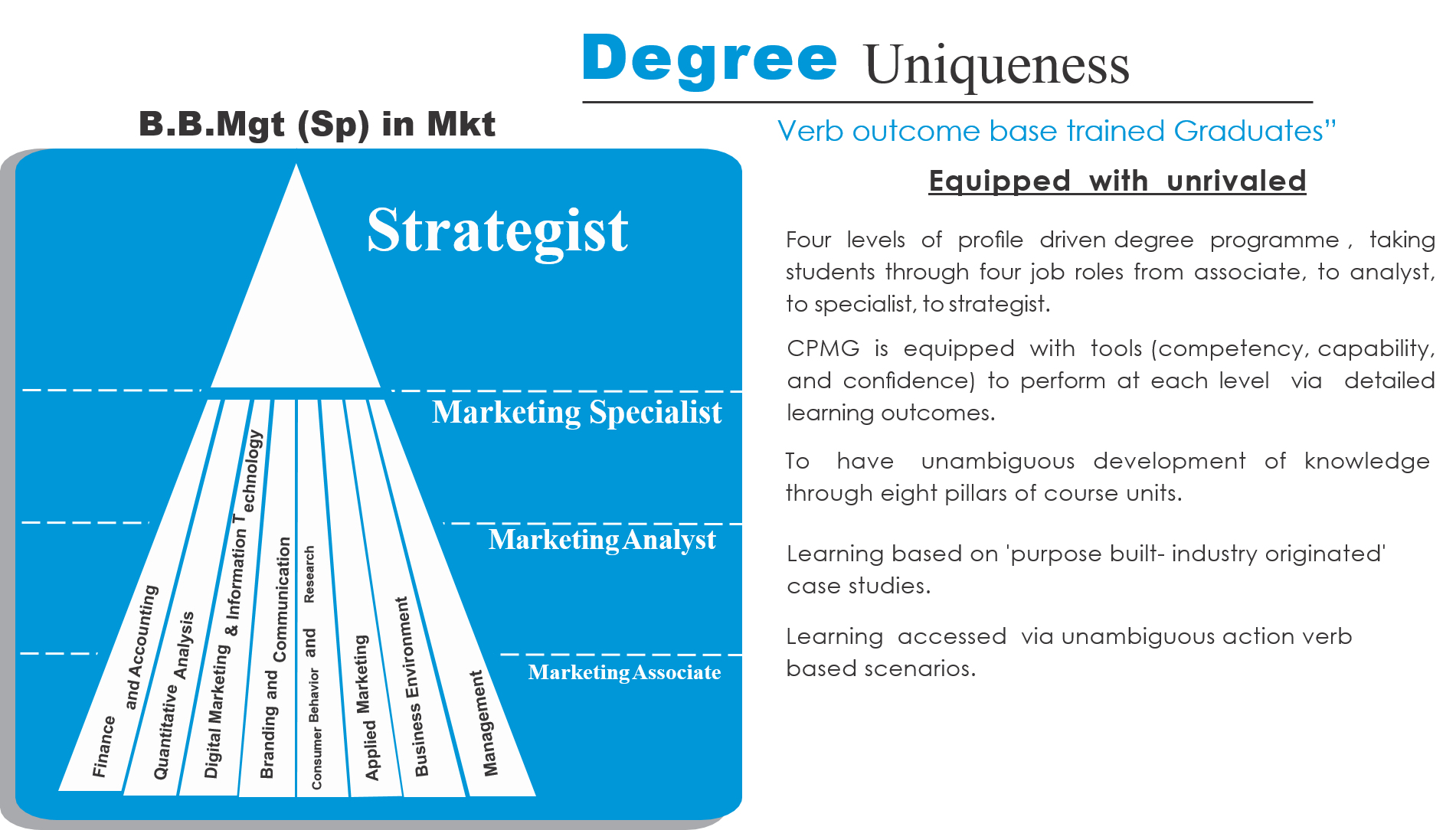 A UNIQUE DEGREE
| | |
| --- | --- |
| Traditional Degrees | B.B.Mgt. (Special) Degree in Marketing |
| Lack of direction and vague end outcomes | Level specific direction set via graduate profiles or level descriptors, setting the exact expectations on knowledge, skills and attitude |
| Course units appear and disappear randomly throughout the degree programme | Unambiguous development of learning through eight domains of learning pillars |
| Lack of structural flow in developing knowledge/ skills/ attitude | Learning elevated gradually from factual to conceptual to procedural to metacognitive |
| Lack of regular elevation of ability or action in making graduates capable of performing the desired job roles | Learning outcomes based on action biasness ranging from remember to comprehension to application to analysis to evaluation to synthesis |
| More teacher centered learning methods | Innovative teaching and learning via buzz groups, crossovers, industry visits, workshops, simulation, online forums, white papers etc... |
| On-supply learning with hours of class room work | On-demand learning via podcats, vodcasts, and LMS activities |
| Ambiguous assessment methods via misaligned questions | Teaching, learning, and assessment based on action verbs with clear definitions |