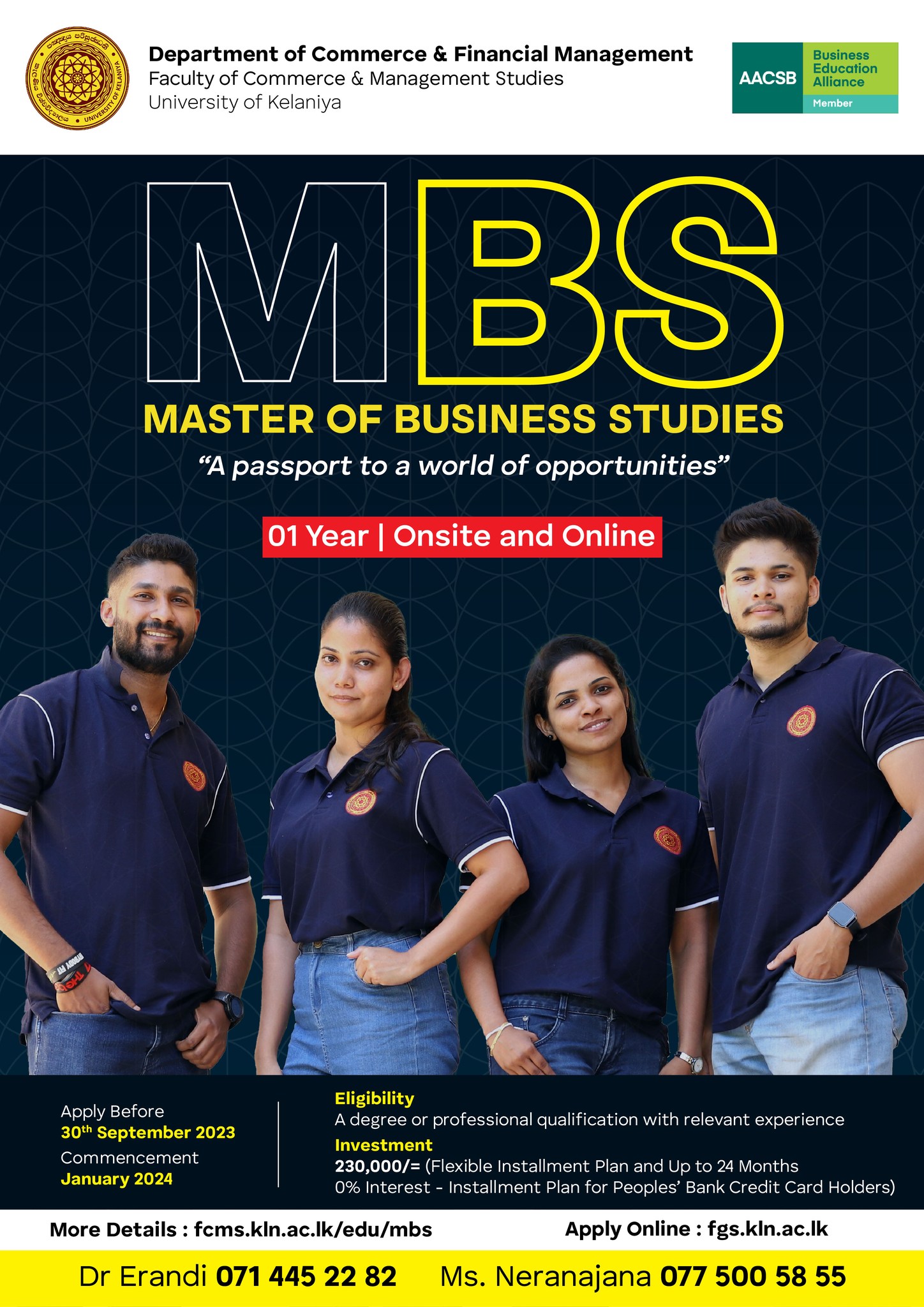 NEW INTAKE
Academic Year 2024
We are thrilled to announce our new intake for the Master of Business Studies program. Applications are now open. Apply via the below link on or before 30th September 2023.
Eligibility
A degree or a professional qualification with relevant experience with not less than 2 years.
Mode
Onsite and Online
Duration
01 Year

Investment
Rs: 230,000/=
Flexible Installment Plans
0% Interest - Installment Plans Up to 24 Months ( for Peoples' Bank Credit Card Holders )
Apply Now
First Inauguration Ceremony - 2021
The Master of Business Studies (MBS) program was thoughtfully designed for students searching for an executive master's degree. The degree program was conceptualized in 2014 and was launched in 2020 after several rounds of consultation and review from academics and industry experts. MBS has been designed to be delivered over three (03) semesters, reducing each student's learning workload per semester, and the in-class learning activities are limited to Sundays. MBS is a generalist program that covers a broader spectrum of the business studies field. This paves the way for the students to develop an integrative view of a business and its ecosystem. MBS act as a bridge between a bachelor's degree or professional qualifications and an advanced postgraduate degree. MBS is positioned at level 9 in the Sri Lanka Qualifications Framework (SLQF) and can be completed in one year. The degree program is conducted by the Department of Commerce and Financial Management (DCFM). DCFM is the largest department in terms of the number of students in the Faculty of Commerce and Management Studies and has the highest number of Ph.D. holders in the faculty. DCFM is the pioneer of Commerce and Management education in the University of Kelaniya and will continue to do so in the future. The department's teaching faculty has embraced online teaching, assessments, and examination to continue our study programs and complete them on time. Our teaching faculty is trained in pedagogical approaches and techniques applied in business schools around the world. We at the DCFM is committed to delivering an exceptional learning experience for students who intend to pursue the MBS program.
I am grateful to welcome all of you to the Master of Business Studies (MBS) Program offered by the Department of Commerce & Financial Management, Faculty of Commerce & Management Studies, University of Kelaniya. The program offers unique learning opportunities to expand your intellect and curiosity while also cultivating a supportive atmosphere in which to achieve your master's degree. Moreover, it provides expanded and diversified educational opportunities that allow students to engage closely with their peers and teaching faculty. The curriculum for this program is academically rigorous, broad, and practical, with an emphasis on soft skills. Hence, you will graduate with knowledge and skills applicable to real-world business activities, allowing you to advance to the next level in your career. You will be guided by qualified, committed, experienced, and competent academics and industry practitioners to achieve your dream. MBS Kelaniya is the best choice for you if you want to strengthen your analytical abilities, learn new management approaches, and advance your career. So, to succeed in the program, have faith in yourself and put in the effort necessary to succeed. I wish all the very best to the current and prospective learning partners of MBS Kelaniya.