Faculty Quality Assurance Cell (FQAC), of the Faculty of Commerce and Management Studies (FCMS) was established in 2015 with the guidance given by the Quality Assurance and Accreditation Council (QAAC) of the University Grants Commission (UGC). FQAC liaise with the internal Quality Assurance Center (QAC) of the University of Kelaniya to coordinate university level Quality Assurance (QA) activities.


FQAC ensures that the quality of the academic programmes offered by the FCMS are maintained in order to meet the changing demand and challenges in higher education. The primary aim of the QAC is to promote, maintain, monitor and ensure effective learning environments while compatible with the Sri Lanka Qualification Framework (SLQF) and relevant Subject Benchmarks. Further FQAC formalize and streamline the QA process at both faculty and university level representing all stakeholders for quality within the faculty, including academic staff, students and non-academic staff. FQAC works with other related units and committees in the faculty to coordinate QA activities within the faculty and report to the QAC.

Major Responsibilities of the FQAC

To promote quality enhancement activities within the faculty liaising with Curriculum and Academic Development    Committee,   Teaching and Learning Committee, Research Development and Higher Degree Committee and other Faculty committees and departments.

To liaise with the Internal QAC of the University and Quality Assurance Council of the UGC in facilitating the conduct of external reviews in the faculty and the institutional review.

To facilitate implementation of follow-up actions recommended in external review reports, and   monitor   progress   of the quality related activities initiated by the cell.

To liaise with internal QACs in other higher educational institutions,

To share good practices and enhance the quality

To conduct QA related awareness programmes among staff members

To obtain feedback from stakeholders on services / products and include where relevant findings that will improve the performance

Recent Activities of FQAC

Study Programme Review – All 5 departments in the FCMS faced external review in 2018

Institutional Review of the University in 2020

Recommendations on Best Practices

Programme Review 2018

Following the guidelines stipulated in the manual for review of undergraduate programmes of Sri Lankan universities and higher education institutes prepared by the Quality Assurance Council  of the UGC. FCMS submmited Self Evaluation Reports (SER) of its programmes for external evaluation. Four departments out of five were able to secure A grade for SER.
Purpose

The Faculty Quality Assurance Cell (FQAC) of the Faculty of Commerce and Management Studies (FCMS) is established to create a culture that seeks to continually improve the quality of all academic activities and other activities in the FCMS.

Functions

1. The functions of the FQAC shall be to:

2. Promote quality enhancement activities within the FCMS.

3. Liaise with the Internal Quality Assurance Unit (IQAU) of the University in facilitating the conduct of Institutional Review and Programme Review (PR).

4. Prepare self-evaluation report for PR.

5. Guide departments in the FCMS in preparation of self-evaluation reports for programme and subject reviews.

6. Facilitate implementation of follow-up actions recommended in subject, programme or institutional review reports, and monitor progress in their implementation.

7. Liaise with quality assurance units in other higher educational institutions, to share good practices and enhance the quality of higher education in Sri Lanka.

8. Develop policy standards for the activities of the faculty.

 
Organizational Structure

Quality Assurance (QA) activities at Faculty level shall be managed by Faculty committee established and the FQAC shall be headed by the Dean and the FQAC shall be managed by a Management Committee (MC) which comprise of,

1. The Dean of the Faculty

2. The Head of each Department in the Faculty

3.     The cadre Chair Professors in each Department in the Faculty
        Three other members nominated by the Dean from among the senior academic staff of the Faculty
        Administrative Officer (SAR or AR)

     

    Invitees to the Committee Meetings

    Director - Center for Management Research

    Coordinator – Faculty Corporate Plan Committee

    Coordinator - Faculty Staff Development Center

    Coordinator – Faculty Examination Unit

    Department Quality Assurance Coordinators

    Faculty Special Project Coordinators

    Two external members

     

Quorum

The Management Committee shall meet at least six times for each calendar year. Quorum shall be 50% of the membership

Terms of office

The Administrative Officer (SAR or AR) assigned to the Faculty shall serve as the Secretary to the FQAC. Terms of office for appointed members of this committee will be three (03) years.

Responsibilities and Duties of the Coordinator of the FQAC

1. Communicate with the Director IQAU to coordinate Faculty level QA activities

2. Represent the Faculty in all QA related activities and organize faculty QA meetings

3. Recommend name of members to the Dean to be appoint as department coordinators or members for each criterion in the QA Manual of the UGC

4. Guide department coordinators to prepare the Self Evaluation Report (SER)

5.Liaise with professional quality assurance and accreditation bodies on matters pertaining to QA and accreditation if required

6. Monitor the collection and analysis of Faculty level QA data such as student feedback forms and peer review forms

7. Answer and address issues relate to QA raised by faculty members in general and by the department coordinators in particular

8. Work with other related committees and units within the faculty on matters related to QA

9. Report the activities of the FQAC to the Faculty Board and IQAU regularly

10. Represent the Faculty at the IQAU and report the progress of FQAC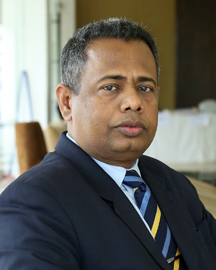 Dr. P. N. D. Fernando
Chairman
Dean / FCMS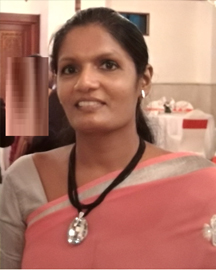 Dr. D. K. Y. Abeywardhana
Faculty Representative
Senior Lecturer, Department of Accountancy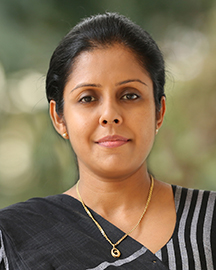 Ms. H. A. A. I. Hettiarachchi
Secretary
Senior Assistant Registrar
Quick Links
QACC of the UGC
University QAC
University Home page
Downloads
Template for exam paper front cover
Template for Assignment feedback
Feedback form formats
Staff peer review form
Workload reporting form
QA activities reporting form
Curriculum revision reporting form
Dean's list and Faculty Awards Application
Dean's list and Faculty Awards Information
Dean's List Academic Year 2016/2017